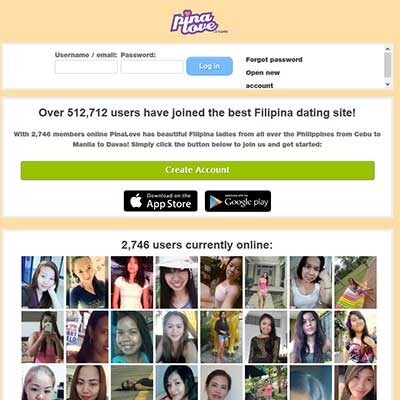 Finding love across the continents is made easier with the creative platform of PinaLove. The companionship site brings available Filipina women right to the fingertips of men who are seeking them. With a handful of helpful features and an easy set up process, this is one site that you much try if you are interested in Filipina love.
What is it?
PinaLove.com is a site dedicated to providing singles with an avenue for finding love with Filipina women. The site carefully verifies each and every user and promises to offer the best experience for single men on the quest for their perfect Filipina.
Features
Everyone loves some great features when it comes to finding love over the internet. As a site that targets love happening overseas, Pina Love has a number of features to ensure your courtship experience is one of quality and offers fruitful results. Here are some features which you will find:
Mobile app. Want to work on finding that special someone on the go? Pina Love offers an iOS and Android app which users can access. For this type of site, Pina Love is one of the only companies to have a mobile application.
User Verification. Every user is required to verify their phone number immediately upon setting up a profile. Additionally, the company takes up to two days to vette your profile to ensure that you are not a scammer. Overall, this means that the site is less likely to have fraudulent people.
Enhanced security. One of the most important features any site can offer is enhanced security. This site encrypts all user information and goes the extra step to continually monitor communications and flag any users that appear to not be genuine.
Translation services. Within the communication platform, users are able to access basic translation features which help them communicate better with women who are not fluent in English. This is a valuable feature that makes it easier to find love and for singles to form a meaningful connection before meeting in person.
Limitations on free accounts. Since anyone can set up a free account, the limitation on the number of messages they can send is a valuable feature. This is another item that prevents scammers from taking advantage of others on this site.
Web cam chat. Chatting via web cam is most like chatting in person. Users will discover that web cam chat makes connecting easier than ever though the basic user interface that lets you see your love interest in real time.
Membership
The premium membership option will give you access to a variety of top-notch features such as unlimited messaging, advanced search, privacy control, offline options, being listed above free members, and seeing who has read your messages/viewed your profile. There is only one upgraded membership option from the free account. It is available at a rate of $24.95 per month for one month; 49.95 for three months; $69.95 for 6 months; or $99.95 for 1 year.
Conclusion
Although it operates as a relatively simple platform, PinaLove.com has one detail in its pocket – results. The membership rates are fair and considered some of the lowest in the market. The platform easily connects men and Filipina women and promises an authentic experience for finding love.